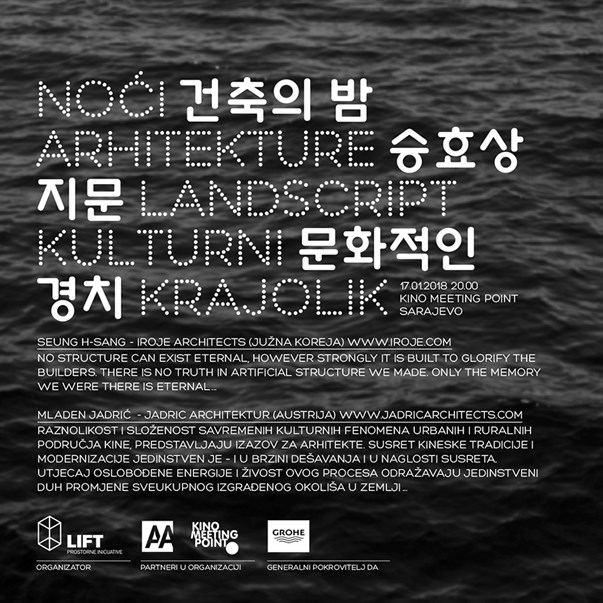 NOCI ARHITEKTURE 건축의 밤
환영 17.01.2018. 20.00h Kino Meeting Point Sarajevo
지문 LANDSCRIPT
Seung H-Sang (South Kore) www.iroje.com
No structure can exist eternal, however strongly it is built To glorify the builders. There is no truth in artificial structure we made. Only the memory we were there is eternal ...
As man cannot deny the fatality of death, architecture ultimately falls down and disappears. No matter how firmly it is built to celebrate the glory of its patron, there is no building that can finally resist the law of gravity. Even city, however perfect in its initial shape, is never complete, never at rest before disappearing. What remains is only memory which is etched on the place like finger print. Let's call it 'landscript' - description on the land about our living landscape. ​
문화적인 경치 CULTURAL LANDSCAPE / Exploration of Architecture and Identity
Mladen Jadrić (Austria) www.jadricarchitects.com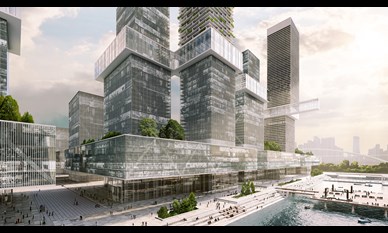 The variety and complexity of contemporary cultural phenomena in urban and rural areas of China is a challenge for architects. The encounter of Chinese tradition and modernization is unique - both in the speed of meeting and in the accumulation of encounter. The influence of the liberated energy and the vigor of this process reflect the unique spirit of changing the overall built environment in the country.
The targeted study of selected topics in urban and rural areas further transports theoretical and practical knowledge as a tool for solving the unique reconstruction of cultural identity and addressing the aesthetics of the built space.
Seung H- Sang is born in 1952, graduated Seoul National University and studied at Technische Universitaet in Wien. Worked for Kim Swoo Geun from 1974 to 1989 and established his office "IROJE architects & planners' in 1989. He was a core member of "4.3 Group" which strongly influenced Korean architectural society, and participated in founding "Seoul School of Architecture" for a new educational system. He is the author of 'Beauty of Poverty(1996 Mikunsa)', 'Architecture, Signs of Thoughts(2004 Dolbegae)', 'Landscript(2009 Yoelhwadang)' and 'Graveyard of Roh Muhyun(2010 Nulwa)', and was an Visiting Professor of North London University and taught at Seoul National University and at Korea National University of Art. His works are based on his own critical concerns on Western culture of the 20th century whose subject is 'beauty of poverty'. He won various prizes with his practice and works, and was the coordinator for 'Paju Book City'. The America Institute of Architects invested him with Honorary Fellow of AIA in 2002, and Korea National Museum of Contemporary of Art selected him as 'the artist of year 2002', first time for an architect and had a grand solo architecture exhibition. He, gained world-wide fame as architect with his architectural achievements and through various international exhibitions, has spread out his architectural field over Asia, Europe and America. In 2007, Korean government honored him with 'Korea Award for Art and Culture', and he was commissioned as director for Gwangju Design Biennale 2011 after for Korean Pavilion of Venice Biennale 2008. He was commissioned as the first City Architect of Seoul Metropolitan Government in 2014 and finished his term in 2016. 
Mladen Jadrić si teaching and practicing architecture in Vienna, Austria. Mladen Jadric is the founder and principal of JADRIC ARCHITEKTUR ZT GmbH. He has realized a wide range of projects of different scales: architectural and urban design projects, including residences, experimental art installations and interior design in Austria, USA, Finland and China. Since 1997 he has been teaching at the Vienna University of Technology (TU Wien) and has gained extensive experience as a visiting professor and guest lecturer in Europe, USA, Asia, Australia, and South America. He has exhibited at the Royal Academy of Arts in London, UK; M.I.T., Cooper Union, and Roger Williams University, USA; Alvar Aalto University, Helsinki, Finland; the Architectural Biennale in Venice, Italy; the World Architectural Triennale in Tokyo, Japan; Museum of the 20th Century, Berlin, Germany; Seoul Biennale of Architecture and Urban Planning, Korea; NIT-Nagoya Institute of Technology in Japan, and many more. He received the State Award for Experimental Architecture, Karl Scheffel Preis and Schorsch Preis by City of Vienna.